Glommasvingen - a school for the future
On Wednesday 16 October 2019, Knut Hvithammer, the Mayor of Sør-Odal Municipality, proudly opened Glommasvingen School by handing over a beautifully carved wooden key to the head of the student council.
There was a busy opening ceremony that featured speeches, performances by local musicians, and pupils singing and dancing on the school's new stage. Torger Jonasen, a Relationship Manager at KBN, delivered a short speech and handed over a green certificate as evidence of the school's green loan from us at KBN. KBN granted Glommasvingen School a fixed-rate green loan totalling NOK 224.6 million, which will reduce their interest costs by an estimated NOK 3,345,916 million. Which is quite a lot of money.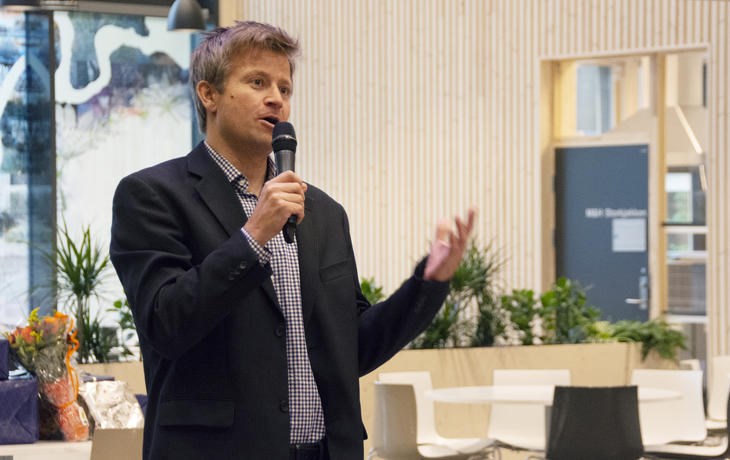 What made you apply for a green loan from KBN?
"We were given some information on green loans by our previous customer contact at KBN, and there were not many providers of this type of loan at the time. We were motivated to choose a green loan because we were building an environmentally friendly building in accordance with the relevant criteria", explains Kari Gunnarsrud, the CFO of Sør-Odal Municipality.
What do green loans mean to you?
"As well as the better terms, they also indicate that we are thinking along the right lines when building a new building", comments the CFO.
The Future School
Glommasvingen School is being called the Future School – which is an ambitious name! What is a future school? What would such a school be like?
"A future school is built sustainably using the technology of tomorrow, and is designed in a way that means it can be adapted to changes in the curriculum and developments in teaching that may arise in the future", explains Linda Kristin Eek Stranden, the school's headmistress. Lars Prestvik, Chief Lending Officer at KBN, and Torger Jonasen, Relationship Manager at KBN, were very impressed by the school building during their tour, and think the school's nickname is appropriate.
What does the Future School offer its 900 pupils?
"The school's building is welcoming to everyone and has equipment and spaces that promote learning. There are lots of opportunities for varied and inspiring teaching. Its outside spaces are also great and can cater for lots of different activities", explains Linda Kristin Eek Stranden.
The headmistress is referring to the school's over seven acres of outdoor facilities, which have lots of green space, playground equipment, basketball courts, artificial grass pitches, volleyball courts and several table tennis tables. They are already seeing pupils use the outdoor areas both within and outside school hours.
4,000m³ of Norwegian pine
On 12 April 2016 the Municipal Council of Sør-Odal Municipality resolved to build a new school for years 1 to 10 for all 900 of the municipality's pupils, and it resolved that the new school would be built out of mass timber with large areas of mass timber surfaces exposed inside. The Municipality's Mayor, Knut Hvithammer, explained to us at the school's opening that the cladding is Norwegian pine and measures an impressive 4,000m3. The Mayor also emphasised that forested areas represent Norway's green heart and recounted with a broad smile how the other day a pupil in year three had commented to the headmistress that the school smelled of the forest. As well as areas for teaching, a new multi-use sports hall has been built. All this is what makes Glommasvingen School unique, according to its headmistress Linda Kristin Eek Stranden.
"There are not many schools of this size that are built in mass timber or that are so warm inside. And there are not many schools that boast their own climbing wall!"
Are there positive ripple effects from the high quality indoor environment?
"We are finding that pupils enjoy being in the new building and they say that they like coming to a school that is so modern and well equipped. We have everything! And the opportunities for variety and activity facilitate learning and social collaboration.
A video from the official opening of Glommasvingen School can be viewed here, and photos of the opening can be seen here.
Facts about Glommasvingen School:
Built in accordance with the Norwegian passive house standard (NS 3701)
BREEAM-certified in accordance with BREEAM-NOR 2016 as Very Good
Heating provided by district heating delivered by an external supplier
The building was constructed from mass timber components and has a wooden exterior.
Some of its energy supply is based on solar cells on its roof.
As part of its energy and climate plan, Sør-Odal Municipality has adopted a target of reducing energy consumption and greenhouse gas emissions. The plan states that the municipality will make greater use of renewable resources/district heating, focus on climate change adaptation, and increase its use of timber as a building material when undertaking new building projects.