Our sustainability work
We contribute to the sustainable development of Norwegian society and long-term value creation. We set requirements and provide support.
The UN's Sustainable Development Goals
The UN's Sustainable Development Goals (SDGs) are the world's shared blueprint for eradicating poverty, fighting inequality and stopping climate change by 2030. The goals are closely interrelated and need to be achieved together.
However, businesses and organisations will typically be more
able to contribute to some of these goals than others depending on the nature of their activities. KBN held a workshop for all employees in 2019, in which the following seven SDGs were chosen as areas where we can make a difference.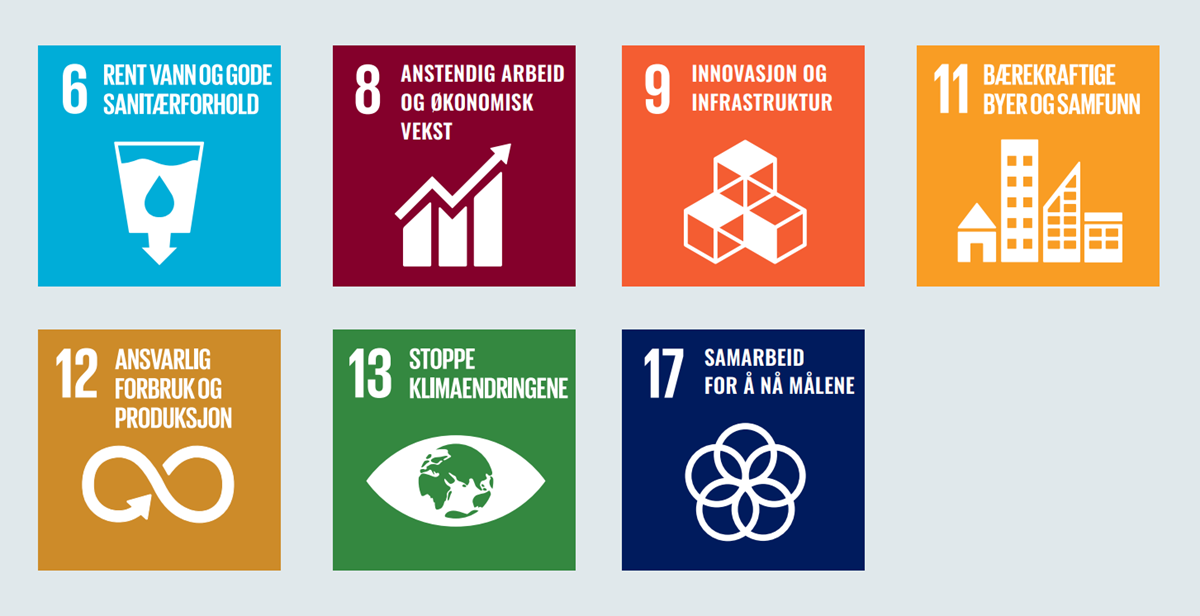 We have chosen activities for our sustainability work in 2020 that support these targets, see the Annual report
In addition, we have mapped our green lending portfolio to identify the connections between our financing of green lending and the Sustainable Development Goals, see the Impact report.
Learn more about our work on the Sustainable Development Goals.
Our collaboration partners
We collaborate with a wide range of organisations and networks in order to fulfil our social function in the best possible way.
We are reducing our carbon footprint
KBN has set a target of achieving at least a 50% reduction in our greenhouse gas emissions by 2030 (baseline: 2019)
Stakeholder dialogue
We base our sustainability work on extensive dialogue with our stakeholders, including both stakeholders who are affected by KBN's activities and those who can influence our activities to a material extent. These stakeholders include KBN's customers, employees, owner, Board of Directors, the authorities, investors and society in general. We regularly review our priorities in the area of sustainability in relation to the expectations of our most important stakeholders.
We carried out a new materiality analysis in 2019.
Sustainability reporting
We follow the guidelines of the Global Reporting Initiative (GRI) in our sustainability and corporate social responsibility reporting.
We report on our sustainability work as part of our integrated annual reports.
Guidelines for Sustainability
We set requirements in respect of sustainable conduct for KBN itself, our suppliers and our customers, and we set the bar a little higher each year.
We provide support to our customers, including by sharing our knowledge and offering digital solutions and sustainable products.
KBN's Overall Guidelines for Sustainability