We are reducing our carbon footprint
KBN has a target of cutting its own greenhouse gas emissions by at least 55% by 2030.
Despite being somewhat indirect, the most important contribution made by KBN to the achievement of climate goals is our discounted green loans for projects undertaken by the local government sector that reduce energy consumption, cut greenhouse gas emissions or contribute to local climate change adaptation. KBN is of the view that this is an important and impactful part of how it fulfils its societal duty to the sector that it serves. In 2020 KBN also adopted a long-term climate target to reduce its own emissions by at least 50% compared with the 2019 level before 2030. As part of KBN's targets for 2022, the 2030 target was increased to at least 55%.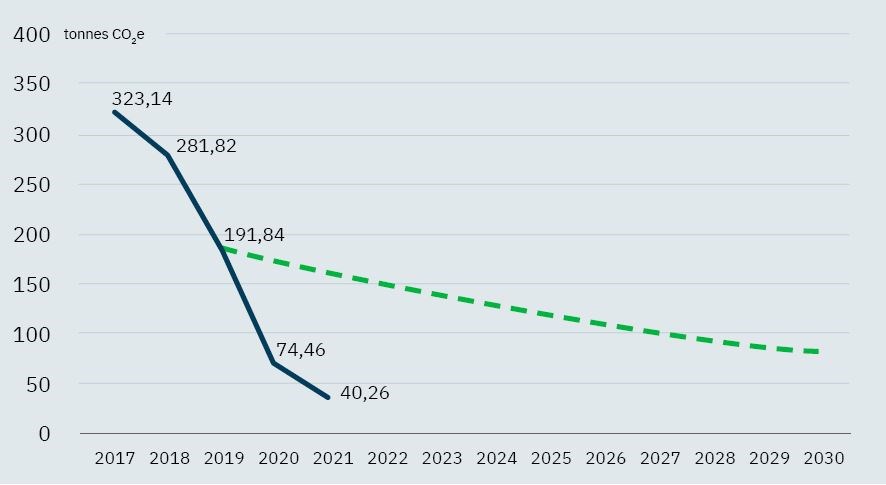 This climate target means that we will need to do things differently in future. Prior to the coronavirus pandemic, flights were responsible for about two-thirds of our calculated carbon footprint. With all of Norway's municipalities as customers, KBN employees attend meetings across the country. In addition, we meet with investors in numerous different locations across the world in order to ensure we are able to offer the local government sector the best possible borrowing terms on loans from KBN. There will continue to be some need for KBN employees to travel by plane in the future, but a number of these journeys can be replaced by other solutions. An internal survey carried out before the coronavirus pandemic revealed that a large proportion of the flights taken by KBN employees were for journeys which could be made by train. KBN has therefore increased the incentives it offers for taking the train instead of flying.
Although digital meetings cannot fully replace physical meetings, it will be natural for digital meetings to continue to account for a significant proportion of our meetings even after the pandemic comes to an end. As part of KBN's customer survey for 2021, 53% of customers replied that they could envisage their next customer meeting with KBN being held digitally. KBN's long-term work on its strategic objectives of putting the customer first and being the digital first choice helped ensure it was well-equipped to respond to the pandemic. KBN's own greenhouse gas emissions were around 46% lower in 2021 than in 2020.
KBN's greenhouse gas accounts are based on the Greenhouse Gas Protocol's Corporate Standard and are produced annually as part of the annual climate and environment report that we produce for the Eco-Lighthouse Foundation. KBN has been Eco-Lighthouse certified since 2009, and was re-certified in 2021 in accordance with the new bank and finance criteria. At present KBN only includes the greenhouse gas emissions associated with flights taken by employees and the residual waste it produces in its Scope 3 emissions figures. However, Scope 3 can contain all the emissions generated by our activities that are emitted from sources that we do not control, e.g. by our suppliers, lending portfolio and liquidity portfolio. Over the long term KBN wants to measure, report and reduce its Scope 3 emissions to the greatest extent possible, but it is currently challenging to collect data of sufficient quality to carry out the necessary analysis.
KBN seeks to contribute to transparency regarding greenhouse gas emissions and in 2021 reported to CDP, which runs the leading international system for environmental and climate disclosures. CDP's assessment takes into account KBN's guidelines, greenhouse gas and energy accounts, and the measures and improvements that it has implemented. KBN has arranged for an external audit of its greenhouse gas accounts for 2021 by the accounting firm EY.
Ernst & Young has for 2020 done an assurance report on KBN's emission figures.